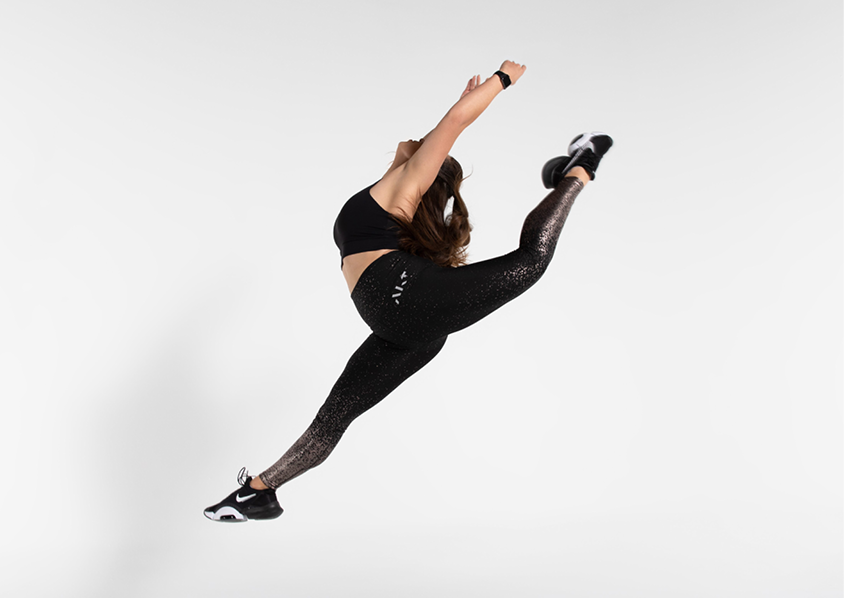 ---
Since 2020, online dance classes have seen a huge surge in popularity. From dance fitness to classical ballet to online dance classes for kids and everything in between, whatever type of dance class you're looking for is now available virtually. Does this trend have staying power and how can you navigate the endless number of online dance platforms to find the right class for you? Read on to learn more…
Most Popular Online Dance Classes
1. AKT on Xponential Plus
Xponential Plus is home to the "world's best fitness classes - on demand". XPlus offers thousands of fitness classes from the best brands in fitness and new classes are added each week. AKT is one of the 10 Xponential Fitness brands represented on the platform and offers online dance fitness classes for adults. AKT DANCE classes are suitable for all levels with low impact options offered throughout each high intensity class. With dance, yoga, pilates, barre, cycling, boxing, rowing, treadmill workouts and more, Xplus offers the most variety and highest standards in at-home fitness.
2. STEEZY
STEEZY offers "step by step learning for all levels". With four different levels ranging from "Brand New" to Advanced, STEEZY's online dance classes are for those who want to learn how to dance, improve their skills or branch out to learn different styles of dance.
When starting out, STEEZY asks a series of questions to help personalize the experience and find the right classes for you. From there, the unique tools and features make the learning process unique with options like changing the tempo of the music or looping moves.
3. CLI Studios
If you want to "level up your dancing", CLI Studios is for you. With CLI Studios, you can train with some of the top dance instructors and choreographers in the world, right from your living room. CLI Studios offers online dance classes for kids and adults, geared towards those who want to take their dancing to the next level. Classes are offered in every major dance style with 3 levels; beginner, intermediate and advanced. You can even receive personalized feedback from instructors to help propel your progress.
4. Obé
Obé's "thing" is "helping you fall in love with movement (for good)". Obé offers thousands of live and on-demand workouts based in dance, HIIT, step, sculpting and more. Classes range from 5-60 minutes long. Obé online dance classes are geared towards fitness and are accessible to a variety of levels.
Top 5 Benefits of Online Dance Classes
1. Learn at your own pace
One of the greatest benefits of online dance classes is the ability to learn at your own pace. You can pause the video at any time and go back to try a move over and over until you get it. You can also keep repeating the same video until you master the steps. Trying a dance online class is the perfect way for beginners to get some practice without the pressure of keeping up with the pace of a live class.
2. Learn in the comfort of your own space
Feel self conscious about dancing in a room full of other people? Online dance classes are perfect for you! Lock yourself in your bedroom and dance like nobody's watching… because they aren't!
Then, once you've gotten the hang of it, take your moves into the dance studio or out to the nightclub and show everyone what you've got!
3. Build your own schedule
As a new mom, this is one benefit of online dance classes that really speaks to me. As much as I'd love to dance in a room with other people everyday, it just isn't always possible to find a class that fits in my schedule. With dance classes online, I can dance it out during baby's nap time or at 9pm once he's asleep and all the chores are done for the day. And if he wakes up, I can press pause, nurse him back to sleep then get moving again!
4. Accessibility
With online dance classes, you don't have to live in a big city to have access to the hottest dance workouts or the best choreographers. You can take the best dance classes online, from anywhere in the world.
5. No Equipment Necessary
While other virtual workouts require equipment, online dance classes are a great way to workout from home because you don't need anything but your body and a little bit of space.
Free Online Dance Class Workout
If you're looking for a free online dance class workout, then check out the below featuring a couple of our XPros!
How Often Should You Take Online Dance Classes?
Dancing offers several benefits in addition to being a fun way to move your body. Whether your goals are to feel more confident on the dance floor, keep your mind sharp, improve coordination, cardiovascular health or to lose weight, frequency and consistency are key. For most people 3-5 online dance classes per week will provide the most benefits.
Tips If You're New to Online Dance Classes
Be patient with yourself. Try to set aside any perfectionist tendencies and enjoy the process. Remember it doesn't matter how you look or if you get the steps perfectly. What matters is that you are moving your body and (hopefully) having fun!

Choose proper footwear. If you're not sure what that is, check out what the instructor is wearing and follow suit. For most dance cardio classes, a supportive cross training sneaker is recommended. While other traditional dance styles can vary from barefoot to sneakers or high heels.

Always warm up before a dance class. Many online dance classes include a warm up, but if not, take a few minutes to warm up your body before you begin.
Experience the Best Online Dance Classes at AKT!
AKT online DANCE classes range from 20-60 minutes and they're sure to keep you sweating and smiling the entire time. Classes are accessible for all fitness levels and dance abilities. The positive and encouraging AKT Trainers on Xplus break down each move with plenty of repetition so you can pick up the choreography while breaking a sweat. Some AKT DANCE classes include strength intervals for a full body workout, while others are straight cardio. The moves are simple enough that anybody can do them, with just enough style to make it feel like you're dancing backup to Beyonce at the Super Bowl. Once you've learned all the steps, it's time to let your hair down and perform it! Make sure to get your disco ball out for the final "Performance" song!
Once you've mastered the moves from home, head to your local AKT studio to "Party Up" under the AKT mirrorball!
Find an AKT studio near you: https://www.theakt.com/location-search
FAQs About Online Dance Classes
Are there online dance classes for kids?
There are several resources for online dance classes for kids of all ages.
For more serious dancers, CLI Studios is the perfect place to hone their skills from home and learn from top choreographers.
Just For Kix Digital Dance is another online dance class resource for kids of all levels, offering a variety of dance styles with both live and on demand class options.
Toddlers can begin exploring dance classes with free online dance classes on Youtube from the American Ballet Theatre "ABTTots" program. Featuring 50+ engaging classes geared towards 2-4 year olds.
What are the best online dance classes for adults?
In 2020 many of the top dance studios in the country began offering their dance classes online and Steps on Broadway and Broadway Dance Center in NYC continue to offer livestream classes daily. The majority of these classes are geared towards trained or professional dancers though both studios do offer beginner classes as well.
Where can I find free online dance classes?
Youtube has a plethora of free online dance classes, but it can be time consuming to sift through to find the best quality classes. If you're looking for free dance fitness classes, Popsugar Fitness offers several free "Dance Fitsugar" workouts on their youtube page.
For those who are looking to improve their dance technique or master a new style of dance, STEEZY offers several free dance tutorials on their Youtube page as well.
FitOn is another free fitness app that offers a limited number of free online dance classes.
Is an online dance class worth it?
Nothing can replace dancing in a room full of people; feeling the energy, cheering each other on and sharing the space, but online dance classes do offer tremendous value, and for some may even be preferable to in person classes. Whether you're just dipping your toes into the world of dance or if you're a seasoned dancer, there's a dance class online for you.
Why online dance class?
Online dance classes can provide the same or similar instruction as an in person class with the added benefits of privacy and flexibility to cater the class to your level and schedule.
---